St Catherine's

High School




CLASS of 1962 - 100th Anniversary of SCHS
16
( Above graphic created by Cathy Beres McCombs - 50th ~SCHS1962 Reunion. )
---
60th REUNION ~ REEFPOINT BREWHOUSE
07 September 2022
The 60th 1962SCHS reunion was a success from general comments of the participants. Unfortunately some of the registered classmates could not attend.
Missing were Bob & Cheryl Garrity, Bob Barina, Ann (Seitz) & Ron Deschner, Chuck & Lynda Lechner, Bill & Nancy Porasik, and Jane Vallin. We missed your laughter and smiles.,
Currently working on a short video also. Will provide link as soon as possible.
( All photos courtesy of Renee Dahl Karwowski and/or daughter - a big Thank You! )

Kathleen Smetana Dean ~ Tammy Snortnum (Barb Bonini's wife)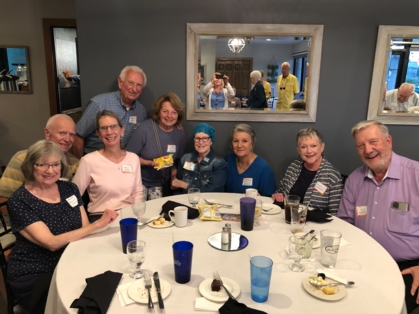 Lft 2 RT: Margaret Habada Johnson. John Johnson, Marlyn Zepnick Johnson, Micheal Weiss, Carol Bowman Weiss, Renee Dahl Karwowski, Rosalie Barranco Rauch, Marietta Garski, Dick Garski; Renee's daughter took this picture ~ Thanks!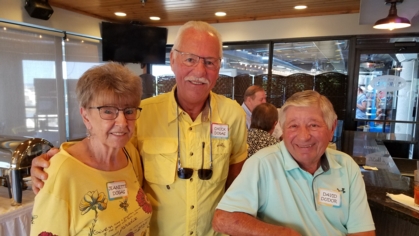 Jeanette Dugas, Chuch Dugas, David Dudor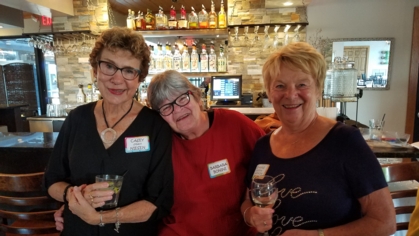 Casey May Niesen, Barb Bonini, Jeanne Niesen Charnon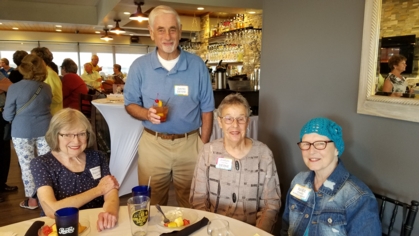 Margaret Habada Johnson, David Devine, Sharon Muth Devine, and Renee Dahl Karwowski.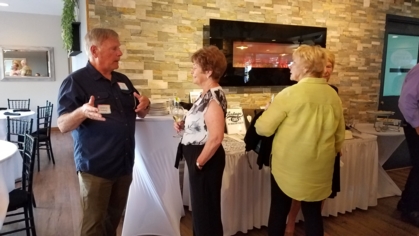 Chuck Haas, Jean Huenneckens Clementi, Kathy Smetana Dean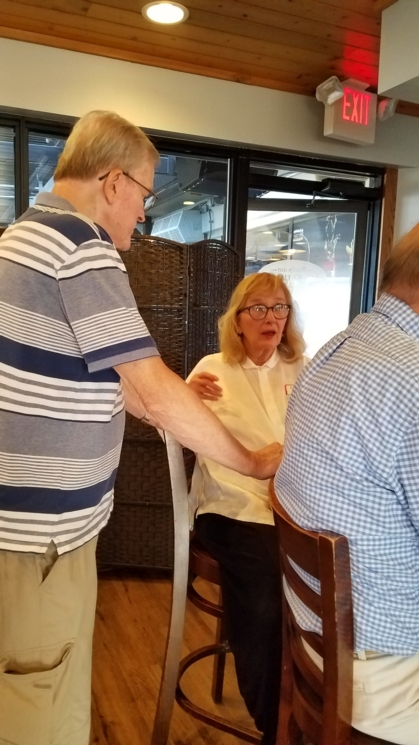 John McNamee, Cathy Beres McCombs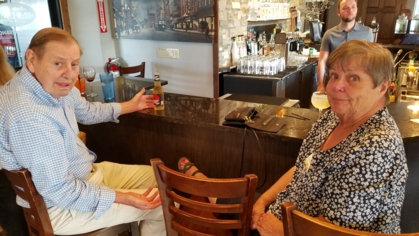 Dennis McCombs, Rita Daniels Cepukenas (Pete's widow)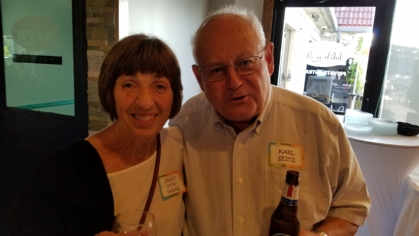 Janet Gross Haas, Karl Seitz
FAMILY PICTURES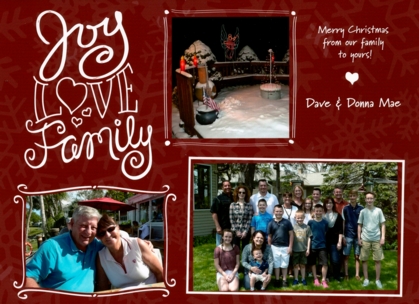 Dave & Donna Dudor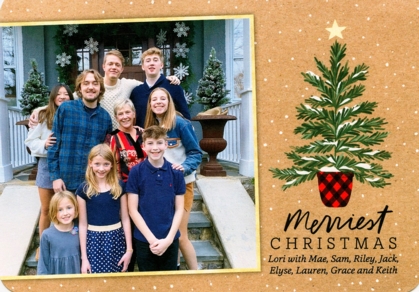 Lori Vance Martiny
---
1962SCHS Classmates - US Military Veterans
Steven Aschauerr - US Army - Killed in training accident - 1968
ANNOUNCEMENTS
Courtesy of Kathy Smullen, we have arranged for discounted rates at some of the local hotels/motels in and around Racine. PLEASE MAKE YOUR RESERVATIONS AS SOON AS POSSIBLE - summer in Racine is very busy for hotels/motels. Each of the hotel/motels is listed at the best rate possible, so read carefully - all of the rates are cheaper than AAA and AARP rates as of today. Make sure you ask for the St Catherine's Class of 1962 rate if cited.
>>>West Racine area
Racine Marriott
7111 Washington Avenue, Racine (Nr. JI Case High School - Oakes Rd.)
10 rooms blocked with Guaranteed Rate. More rooms are available if needed.
Senior Rate with the St Catherine's Class of 1962 rate is $110.00 plus tax
FYI: The Marriott is hosting soccer tournament teams this weekend so book early!
6421 Washington Avenue, Racine (just east of Marriott and Comfort Inn by a half-mile)
10 rooms blocked with Guaranteed Rate $95 plus tax under the St Catherine's Class of 1962 Block Rate. Hotel is just a block or two from the Friday nite Pizza Party and five minutes from Sat nite and Sunday morning events. Block expires on July 3rd, 2012
Comfort Inn
1154 Prairie Drive, Racine (just the other side of Washington Ave from the Marriott)
Guaranteed St Catherine's High School Class of 1962 Block Rate good until July 19th, 2012
10 Queen Doubles and 5 Kings at the rate of $68.00 plus tax
Radisson Harbourwalk
223 Gaslight Circle, downtown on Lake, Racine
*2 night minimum stay when booking Saturday night
Internet Rate as of 09/22/2011
Senior Breaks A Guest Room Sleep Number $116.10 plus tax
Senior Breaks C Marina View Guest Room $129.60 plus tax
Holiday Inn Express
13339 Hospitality Ct
Sturtevant I-94 Exit 333 (just East of I-94 off Hwy 20 Washington Ave.)
10 rooms blocked with Guaranteed Rate $115 plus tax for St Catherine's Class of 1962 Expires July 1st, 2012
Country Inn & Suites
7011 122nd Avenue, Kenosha, WI 53142 (fifteen minutes south of Racine)
262-857-3680
Senior Rate Guest Room $116.10
Senior Rate Guest Room Suite $126.10
Hwy 50 & I-94 Area, near the Cracker Barrel Restaurant & Brat Stop
Also, near the Fashion Mall for shopping
**************************************************************************
As of Sept 28, 2011 we have committments from about 140 people (grads/spouses) to attend the 50-Year Reunion of the Class of 1962 St Catherine's High School. This website does not show that number since not all alums have registered at this initial stage of the website development - make sure you check back often.
Currently we have listed 366 members of our combined starting class - Fall, 1958 and students transferring in. If anyone remembers any other classmates during the period of 1958-1962, please let us know so we can include them as well. Please remember that any group of people fluctuate in size and content - we had people transfer in and out during those four years.
A "big thank you" to those who have served on the 2012 Reunion Committee for the Class of 1962 SCHS as listed below:
Cathy Beres McCombs, Jean Huennekens Clementi, Sharon Muth Devine, Pete Cepukenas, Jeanne Niesen Charnon, Kathleen Smetana Dean, Margaret Habada Johnson, Kathy Novak Barth, Lori Vance Martiny, Ann Seitz Deschner, Sandy Jaeck Kwas, George & Kathy Smullen, Dick Garski, Tony Totero, John Lesko, Renee Dahl Karwowski, and as always, with the guidance and assistance of our class president, Brian Steele.
In addition, we would like to thank John Lesko and Peter Cepukenas for their assistance in the Golfing Reunion event. Please let John or Pete know of your interest in the golfouting for Meadowbrook CC - more information can be found in the USER FORUM.
To register for the 50-Year 1962SCHS Reunion - make sure you complete the information in the area under CLASSMATES PROFILES listed as 50 YEAR REUNION. In this section you can make your selections for the various events over the three day reunion period.
THANKS to all that have updated their PROFILES - your personal information, stories, pictures, and videos/links gives all of our fellow classmates a basis to build quick conversations on when we meet at the 50th Reunion - August 3/4/5, 2012.
Pam and I have recently moved out of California to the State of Utah during the months of Oct/Nov of 2013. No we are not becoming Mormons,:), just changing our life style a bit and start another chapter in our lives. I also have a new email: palo1send@outlook.com.

Best regards,
Palermo